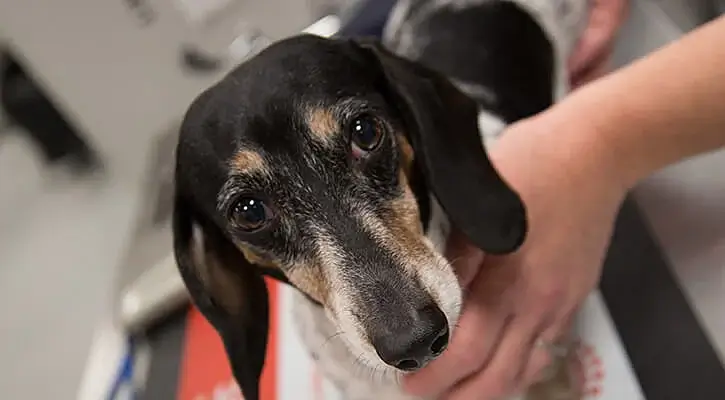 Just like you, we want your pet to live the longest, healthiest life possible. That starts with the basics: quality food, enough exercise, good grooming, and yes, regular check-ups.
Annual wellness exams are your pet's first line of defense. Forest Crossing Animal Hospital's comprehensive annual exams include checking their overall health from nose to tail and looking for any changes that may have occurred.
These wellness exams also allow us to develop a customized care plan for your pet's optimal health—one that includes preventive care like vaccines and blood screenings, parasite prevention, nutritional and behavioral advice, and medical intervention when needed.
Puppy & Kitten Wellness Programs
Congratulations on the new addition to the family! For many pet lovers, there's nothing more exciting and fun than getting a new puppy or kitten. We'll be your partner in making sure your young pet gets started off on the right paw because the first few months of life are critical to their development, future health, and well-being.
You should schedule your puppy or kitten to see the veterinarian as soon as possible after you adopt for the following services:
Comprehensive Physical Exams – monitoring your new pet's growth, looking for signs of any future health issues
Vaccinations – Young animals are not fully immune from many life-threatening diseases, so vaccinations are vital, and rabies is required by law for most pets.
Intestinal Parasite/Disease Screenings – It's very common for puppies and kittens to have worms, and they can make your new friend very sick and weak. Fecal testing for intestinal parasites is a must for puppies, and FIV/FeLV testing is advised for kittens.
Spay/Neuter – Our veterinarian will discuss the benefits of altering your pet and if you opt for this procedure, when it should be done.
Microchip – One of the most important things you can do for your pet is to make sure he or she is microchipped. Unlike collars, microchips stay with your pet for life and will make it much more likely your dog or cat will be returned to you if lost.
Heartworm, Flea, & Tick Preventative – Fleas and ticks are not only unpleasant, they carry disease and can be very detrimental to a juvenile animal's health. Heartworm is potentially deadly for canines, and treatment is expensive and difficult for most dogs.
Behavior & Nutrition Counseling – While it may be true that puppies and kittens don't come with instructions, counseling with our veterinarians about feeding, housebreaking/litterbox training and socialization will set your pet up for success as a family member.
Adult Pet Wellness & Preventative Care Program
We recommend annual wellness exams and blood testing for all adult dogs up to seven years of age. Your dog's wellness exam at Forest Crossing Animal Hospital is an opportunity for you to discuss any concerns you have about your dog's health with one of our veterinary professionals. We understand that because you spend the most time with your pet, you are going to be the expert on how your pet is feeling and behaving. You're also your animal companion's best health advocate.
We encourage discussions about nutrition, allergies, dental care, mobility issues, risk of infections, and any lifestyle or behavior changes. Our adult pet vaccination protocols are based on the American Veterinary Medical Association guidelines but also customized to the individual needs of your pet based on health and lifestyle.
Senior Pet Wellness Program
Our animal companions, unfortunately, age much faster than we do, which means disease and illness progress much faster as well. For this reason, Forest Crossing Animal Hospital recommends that dogs over age seven and cats over nine have wellness exams and senior blood chemistry panels twice per year.
The goals for senior pet exams are to detect, prevent or delay the diseases and conditions that are common in older animals such as osteoarthritis, hormone disorders, organ failure, cancers, and disease of the kidney, heart, and liver. We may also advise X-rays, ultrasound, urinalysis, and blood pressure monitoring for your older pet.
We will customize a senior wellness program to suit your pet's individual needs as they age. This may also include a specially formulated food for your elder companion, whose changing nutritional needs will benefit from an adjusted diet.
If you have a senior dog, we recommend that you call us for an exam if you observe any of the following symptoms:
Sudden weight loss or weight gain
Significant decrease or increase in appetite
Failure to eat for more than two days
Noticeable decrease in vision
Increasing inactivity or time spent sleeping
Reluctance to or difficulty jumping up (cats)
Confusion/change in personality
Loss of housebreaking or litterbox issues
Excessive panting
Hair loss, especially if accompanied by scratching in a localized area
Seizures or convulsing
If you have questions about caring for your pet at any life stage or to set up an appointment, call us at 936-271-9300.