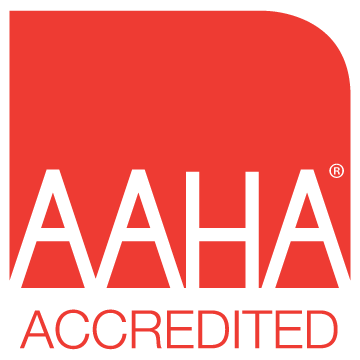 AAHA Accreditation
AAHA stands for the American Animal Hospital Association, and they are the only organization that accredits veterinary hospitals in the US and Canada. AAHA was founded in 1933 by veterinary professionals who were looking to promote high-quality standards for the emerging field of small animal medicine. Currently, only around 15% of veterinary practices are AAHA-accredited—and we're immensely proud to be one of them!
Accreditation is voluntary, and requires meeting or exceeding hundreds of rigorous standards of quality in the following areas:
Anesthesia
Dentistry
Emergency & critical care
Human resources
Laboratory
Medical Records
Pain Management
Patient care
Pharmacy
Surgery
These standards are continually updated and improved upon, which means that Forest Crossing Animal Hospital will always be on the forefront of any advances in the veterinary field.
We opted to become an AAHA-accredited practice because we believe that our patients deserve the most exceptional care possible, and we want to deliver it. By choosing an AAHA-accredited practice, you're helping to support high-quality veterinary care for not just your pet, but for pets everywhere.
To learn more about AAHA and why it's so important, please watch the video below or click here!

Fear Free® Certification
We want your pet's visit to Forest Crossing Animal Hospital to be a stress-free experience, and we are proud to have many members of our staff who are Fear Free Certified! Fear Free was founded in 2016 by Dr. Marty Becker, aka "America's Veterinarian." The goal was to take the stress, anxiety, and fear out of veterinary visits for pets via education of both veterinary staff and pet owners.
Fear Free has become one of the most influential initiatives in the history of small animal medicine and has transformed the way that people think about veterinary visits. It's backed by rigorous evidence-based research on animal behavior, and their curriculum is provided by board-certified veterinary professionals, veterinary technicians, trainers, and experts in shelter medicine.
Fear Free Certification means not only completing a comprehensive training course in Fear Free techniques, but also committing to yearly continuing education in the latest developments. In addition to individual certifications, entire facilities can earn a Fear Free Certification—and that's our goal! Becoming a Fear Free Certified facility means not only delivering extraordinary veterinary care, but doing so in an environment that prevents and alleviates the fear and anxiety that many pets experience at the vet.
If you'd like to learn more about the Fear Free program and the ways it benefits you and your pet, talk to one of our staff members or click here!

Cat Friendly Practice
Cats are special creatures, and we know that taking a cat to the vet often presents its own unique set of challenges! We want to make your cat's visits to Forest Crossing as tension-free as possible, and we are proud to have earned the distinction of being a certified Cat Friendly Practice®.
The Cat Friendly Practice Program was established by the American Association of Feline Practitioners and the International Society for Feline Medicine. It's a global initiative to improve the quality of feline care by improving the veterinary environment—with a cat's comfort in mind!
Cats receive veterinary care at a far lower rate than dogs, and part of that is due to the difficulty of bringing a cat to the vet. Cat Friendly Practices strive to adapt their techniques to the unique needs of cats so that they can get the veterinary care they need—in an environment that's supportive, stress-free, and cat friendly!
Ask a staff member to learn more about the ways that we have tailored our practice to meet the unique behavior and needs of cats, or get more details on the program at the American Association of Feline Practitioners' website.