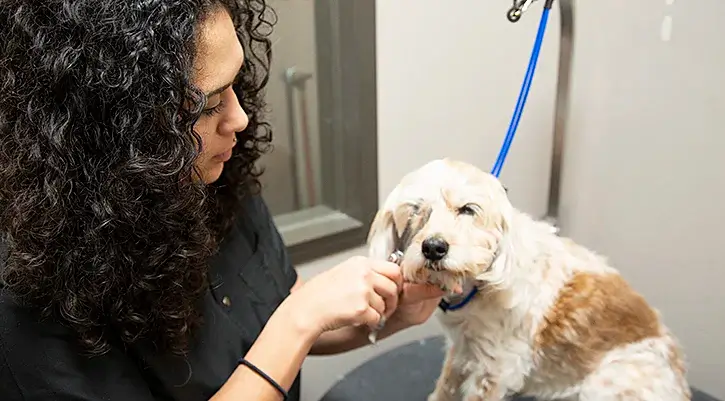 Grooming is about more than just making your pet look good! These services can help your pet feel better as well, assisting in controlling external parasites, soothing skin conditions, and keeping wounds clean after surgery or injury. Our experienced professional groomer is known for her gentle touch and personal attention and can provide full-service grooming care for both dogs and cats.
We offer different types of grooming packages. Pricing varies based on weight and breed.
Full-Service Groom
Bath & brush
Full body trim
Ear cleaning
Moisturizing conditioner
Nail trim
Anal gland expression
Ear plucking
Essential Trim
Bath & brush
Trim face, feet, & sanitary area
Ear Cleaning
Moisturizing conditioner
Nail Trim
Anal gland expression
Bath & Brush
Bath & brush
Moisturizing conditioner
Nail trim
Anal gland expression
Ear cleaning
Puppy Package
A special package for first-time grooms for puppies. Our groomer will work with your puppy to get them comfortable and familiar with grooms in the future! Base price – $55
Bath & brush
Trim face, feet, & sanitary area
Ear cleaning
Nail trim
Anal gland expression
Cat Bath
Bath & brush
Moisturizing conditioner
Ear cleaning
Nail Trim
Deshed Package
An add on package which helps remove under coat with a special shampoo & conditioner
Deshed bath
Blowout
Extensive brush
Add ons
Nail polish – $15
Moisturizing Balm – $5
Teeth brushing
Our groomer also offers breed-specific cuts and trims and can create customized grooming programs for each individual client.
Grooming is available Monday through Friday by appointment only.
Drop-off hours are between 7:00 am – 8:30 am.
Pick-up times are between 3:00 pm – 5:30 pm.
About our Groomer, Leigh Anne
Leigh Anne has been a professional groomer since 2007, and her specialty is pampering your pet!
Unlike the staff at many big-box pet stores who try to do as many pets as possible in a day, Leigh Anne doesn't do assembly-line grooming. She is patient and detail-oriented, taking her time to make sure your pets are comfortable and come back to you looking and feeling their best.
Regular grooming is an important part of maintaining your pet's overall health, and Leigh Anne likes to develop long-term relationships with her clients and their pets so that she can provide personalized service. Make an appointment and see how good your pet can look and feel with grooming by Leigh Anne!
For more information on our grooming services, or to schedule your pet's appointment, call us at 936-271-9300.