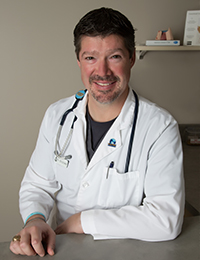 DVM, Owner
Dr. Brzozowski received his Doctor of Veterinary Medicine and Master of Business Administration from Texas A&M University. He is passionate about preventative medicine to ensure a healthy and long life through wellness testing, tailored disease prevention with immunizations, and parasite prevention to keep the whole family safe. Diagnostic imaging, internal medicine, and surgery are a few of Dr. Brzozowski's interests, though there isn't anything he is not interested in.
Dr. Brzozowski and his wife, Samantha, share their home with their son Hayden and daughters Vivian and Evelyn…and of course their "other" daughter Mia, the Brussels Griffon. He is an instrument rated private pilot who loves to explore the world by air and fly animal rescue missions!
Whether you come to visit for your bi-annual exam, or for an illness that needs diagnosing and proper treatment, or just to drop by for a cup of coffee and say hello, he will always be there to listen, learn, teach, and treat!